Coronavirus Update

How can I get my home inspected during the Coronavirus (COVID-19) lockdown in HOUSTON, Harris County? We are currently offering Commercial and Residential Real Estate inspections during these trying times. Residential and commercial real estate inspections are exempt from the COVID 19 Houston Lockdown Rules, and therefore may be done.

We are performing real estate inspections during COVID-19 with your safety in mind and in accordance to new CDC rules. In addition we have our enhanced corporate safety policy.

Stay Safe
"A real estate inspection is a visual review of the residence. The more your inspector knows, the better inspection you will get. It is important that the inspector you choose be very well versed in all phases of the inspection process. The more your inspector knows, the more details the inspector is aware of, the more likely the inspector is to find possible defects, deficiencies and/or hazards in the building. Since the inspection is the beginning of the due diligence process, it is important that your inspector find as much of the visible indications of defects and/or hazards as possible so that you can make sure your new home will be functional and safe."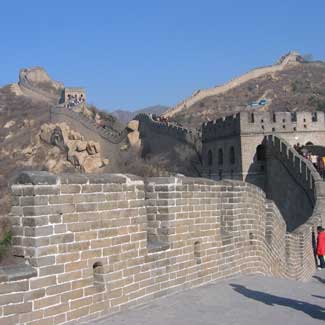 The Great Wall of China
Some structures have lasted forever. How will the house you choose stand the test of time?
---
We require the below contract to be printed and signed prior to your inspection.

Inspection Contract
Please view our services page to select your preferred level of real estate inspection.
The purchase of a new home should be a fun and exciting time. Unfortunately, no house is perfect. Some things found during the inspection are immediately important. Some may have costly consequences in the future. It is our goal to provide you with the information you need to make an informed choice. We will explain the implications of the items found in the inspection report and their effect on the house, on you, your family and your budget. We want you to understand what you can expect from your home so that you will be happy and satisfied with your purchase. If you are planning to build a new house, you will need construction phase inspections to avoid hazards and so you won't be surprised when you sell your home.
REAL PROPERTY INSPECTED:
Residential Property for Buyers and Sellers
New Home Construction Phase Inspections
One Year Warranty Inspections
Vacation Properties
Multi-family homes
Commercial Building
Out of Area or Out of State Inspections or Consultations
INSPECTION SERVICES PERFORMED:
Foundations
Framing
Wall Cladding Systems
Electrical Systems
Heating, Venting and Air Conditioning (HVAC)
Electrical Inspection
Appliance Inspection
Roofing Inspection
Plumbing Systems
Phased Construction Inspection for New Homes
ARTICLES
The Importance of Rafter Ties in Home Construction
How Do You Know if You Got a Good Referral for an Inspector?
Tips for Applicants for the Texas Real Estate Committee
Thermal Imaging for Home Inspections - Updated Opinion
But, The Builder Said...
Is Thermal Imaging a Real Estate Inspection Shortcut?
Good Home Builders Prefer Good Real Estate Inspectors
What is the Business Plan of your Contractor?
Are Gas Company Smart Meters Safe?
Watering Your Foundation During Drought
How do Trees Effect Your Foundation
Maintaining your Foundation During the Drought
Not Everyone Does it This Way
Who does your Real Estate Inspector Really work for?
Can a Seller Dispute an Inspection Report?
The Builder
Should Infrared Inspection Technolgy be used for Real Estate Inspections?
How Good is Home Inspector Technology?
Should Sellers Hire Real Estate Inspectors When Selling Their Home
Real Estate Inspections Used Against Builder in Lawsuit
Understanding Your Real Estate Inspection Report
When Your Realtor Recommends a House Inspector
Why do New Houses Need to be Inspected?
Worried About the Price of an Inspection?
Expectations of a Real Estate Inspection
Deal Breaking Real Estate Inspections
How Useful are Foundation Elevations?
What Protection Does a City Code Compliance Inspection Provide?
REAL ESTATE INSPECTION AREAS SERVED: Serving the Southeast Texas areas including Houston, Katy, Sugar Land, Missouri City, Richmond, Stafford, Sienna Plantation, Royal Oaks, River Oaks, Briarwood, Briar Forest, Cinco Ranch, Memorial, Spring Branch, City of Spring Valley Village, The Memorial Villages, Hedwig Village, Piney Point Village, Bunker Hill Village, Camp Logan, Rice Military, Garden Oaks, the Museum District, Montrose, the Heights, Jersey Village, Tallowood, Galleria, Bellaire, Downtown, Greenway Plaza, West University, Galveston, League City, Friendswood, Alvin, Clear Lake City, Pasadena, La Porte, Baytown, Champion Forest, Champions, Kingwood, Humble, The Woodlands, Benders Landing, Conroe, the Lake Conroe area, Cypress and Tomball. Other areas may be available upon request.